I made this guide a few months back and figured it would be useful for any readers curious about what ground work should first be covered in a young horse.
This is an issue among many horse people, and I'm going to share some facts and honest opinions on how to tell if your horse is ready to be backed.
Most people figure that just jumping on and STAYING on is the first step to riding your horse. Nothing could be further from the truth. When you're breaking the horse to ride, you should have accomplished at least four things:
1) Your horse has been sacked out, and accustomed to a saddle and you draping yourself over it, rubbing your hands everywhere, and be used to the saddle sitting on it.
2) Your horse respects you in every way, showing good ground manners and a submission to you as the alpha being. A bond is also very important when backing; if the horse trusts you, you're in for a good ride.
3) The horse can steer. You can teach this 100% from the ground by teaching it to move off of pressure and by ground driving.
4) Letting the horse age to an appropriate stage.
First, let's discuss age.
IMO, a horse shouldn't be backed until it is 3.5-4yo. I'm also heavy-set, so I know that a younger horse could not support me properly. I let the horse develop and let its knees close and its spine form properly, letting it reach close to its maximum height before backing it.
The absolute youngest a horse should be backed is 3yo. Before 3, they are by far not developed enough to support the weight of a human; they're STILL babies at 1 and 2. Racehorse owners often back as a YEARLING and that just screws a horse up. Let's face it, if you get up too early, you're hurting it.
The results of backing a horse too young can be quite devastating. The following image is not Photoshopped in any way.
See? Gross. Now, let's compare. When you look at a full grown horse compared to a younger one, their neck has filled out slightly, their haunches have developed, they back has lengthened and muscled, and their legs have become more solid. Looking at the following yearling, you can see that he is still very slim, and his legs fragile. The joints are all still soft and mostly cartilage, and the back is flimsy.
Now, looking at a 2yo, you are seeing them grow into themselves, but they still have that little horse look. Their legs are strengthened, but as you can see, they are not, by far, fully developed. Their neck is mostly filled out, their haunches are developing nicely, and their back is still not up to holding the load. They're still going through many growth stages and leveling outs to do, so the best thing to do is stay out of their way.
At three years old, they still have some growing and filling out to do, but finally they are beginning to look like adult horses. They've leveled out about as much as they're going to, they've almost completely finished growing UPWARDS, and their legs are completely solid. Their backs are strong enough to take on light work... however, cantering/galloping/sharp turns with a rider is out of the question. It will still strain their joints. They still have some filling out to do, and their bones are not 100% developed.
This fact completely changes with drafts and bigger horses. You shouldn't back a draft at this stage, simply because he isn't developing as fast as a little horse. The following is a three year old Clydesdale. Note the differences:
This is a full-grown Clyde, for comparison
At four years old, you have a horse. 4yos are considered adult horses, but horses don't stop growing and filling out until they are 6 or 7. At this point, you don't want to put the horse through anything rigorous such as barrel racing or jumping: that should be left to the 5-and-6-year-olds. You STILL have to be careful of the horse's joints. Remember, they're STILL very young.
And at last, you have a 6yo horse. Yes, I skipped 5, that's because 5 is boring. They are mature and filled out and ready to start their show life!
Moving on from the matter of age...
After you're sure your horse is physically able to carry you, you have to worry about their mental state. Not only do you not want to annoy, frighten, or confuse them, but you want to ensure that this ride is perfectly safe for you.
You want the horse to have the utmost respect for you at this point. After teaching them all the groundwork and rules, personal space and respect problems, you will have a well-behaved horse that isn't going to bolt away or trample you or kick AT you when you try to mount it for the first time.
You also want a horse you have bonded with. Does HE trust YOU? Will he let you touch him all over and rub things on him? A big part of trust-building is sacking out your horse, getting him used to plastic bags, tarps, ropes, etc, etc. A good horse will just walk over or under a tarp no problem. A good horse will let you fling a tarp right over him with no fuss.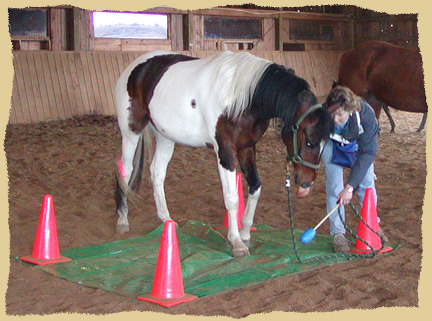 A horse that trusts you will follow you, let you approach it, let you touch it, etc. It will trust your comforting. This does NOT fall outside of the spooking line. A horse is a horse and every horse will spook no matter who it is with. That is something completely different.
Also, you want a horse that has been worked under saddle. Under saddle =/= under rider. You'll want to have introduced the saddle to the horse, let it wear it for a bit... you'll want the horse to be used to a saddle. Even if you're going to get up bareback for the first time (which I've done but recommend against). That also means that you've lunged the horse with the saddle, lead it around, let it graze with it... it means you've pulled on the stirrups a bit, adjusted all the straps periodically, and it means you can saddle the horse without him fussing.
The SAME THING goes for a bridle. Lunging and everything.
The horse, before you mount, should have been taught to move off of pressure. Pressure on the neck, on the sides on the face, etc. Basic groundwork. This way, it will respond to the pressure of your heel, the pressure of reins or hands on its neck, and the pressure of your seat.
The horse should know that a clicking sound means move forward. Push-button, in other words.
Also, to teach it how to steer before you get on, ground driving is an EXCELLENT thing to teach a young horse before backing. Remember, if you get on that horse and he doesn't have steering or breaks... you're just begging for an accident to happen to you or your horse. Crap happens, no matter how hard you work to avoid it.
A horse who is ready for you to back him will also let you drape yourself right over him without caring. He'll be comfortable with it and trust you to be okay with him.
Some people also work with lying their horses down during work (especially if the horse is very disrespectful and a handful). I personally have only ever done this with a couple of horses, but it's up to you.
Well, I think I've gotten everything! If your horse is okay with all of these things, hop right on up and happy trails to you and your baby.